What's new
UPCOMING EVENTS
The People's Passion in 2019
On the occasion of the centenary of the Treaty of Versailles we will present another two performances of The People's Passion, our 100-year-old story of hope for people's movements today.
Read our media release 'What if women like Jacinda Ardern had been at Versailles 100 years ago' for more background to the performances.
See the report about last November's sell out performance on our Events page.
| | | |
| --- | --- | --- |
| | Please book online if possible. Ticket sales at the door will be CASH ONLY | |
A Chorus of Women will be joined by the Luminescence Children's Choir and some of Canberra's finest singers and musicians, among them singers AJ America, Jenny Sawer, Julia Wee and Maartje Sevenster as well as violinist Rowan Harvey-Martin and cellist Gillian Pereira.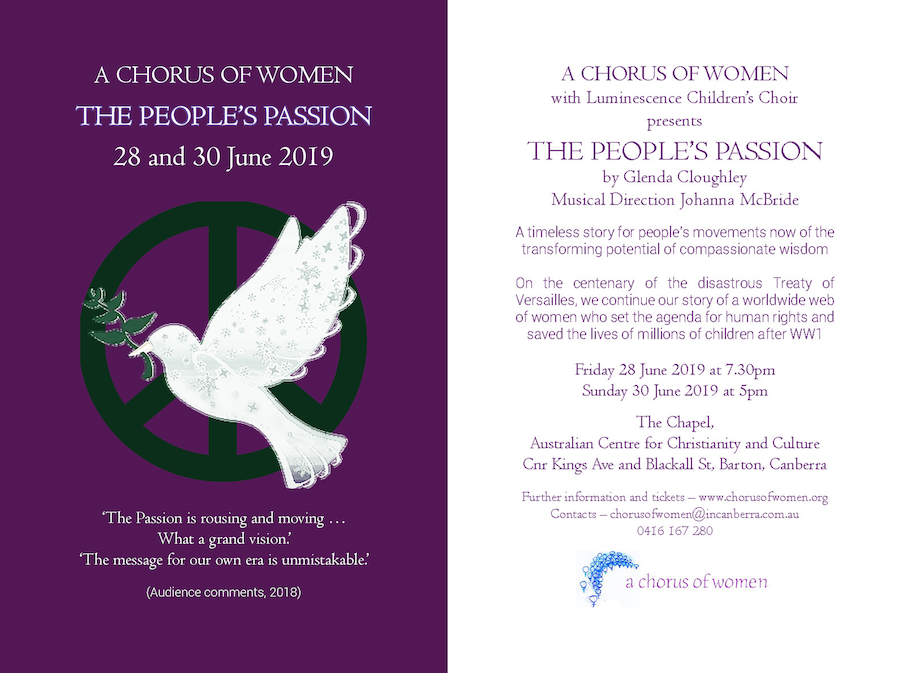 In New Zealand, Prime Minister Jacinda Ardern has shown how empathy and compassion heals communities. A Swedish schoolgirl called Greta Thunberg has led a global movement for action on climate change. On the centenary of the disastrous Treaty of Versailles, and with climate change becoming a global emergency, our Passion shows the transforming potential of compassionate wisdom and women's leadership. It is based on the inspiring story of the 1300 women who gathered at The Hague in 1915 for the only international peace congress of WWI. They passed resolutions to stop the war, and set the agenda for human rights for the next 100 years. At their 2nd congress at Zurich in May 1919, they adopted the name 'Women's International League for Peace and Freedom' (WILPF), which continues to this day.
The resolutions from the 2nd congress promoted principles to enable permanent peace and, through their support of the Save the Children Fund (founded in May 1919 by British woman Eglantyne Jebb), helped to save the lives of millions of children affected by post-war food blockades. In 2019, we show how these women are the spiritual great grandmothers of Jacinda, Greta, and other community leaders with a passion for peace and harmony on Earth today.
Cultural Trauma: Jungian Perspectives
On Saturday 29 June, between the Passion performances, the Australia New Zealand Association of Jungian Analysts is holding a seminar on cultural trauma in the Pavilion of the Australian Centre for Christianity and Culture (see map). Presenters are Dr Glenda Cloughley, Amanda Dowd and Dr John Merchant.

Registrations are essential. For details click on the image for a flyer.


Nizar Ali Badr, Pebble Stories
PROJECTS
The Regeneration Project
'Regeneration' is A Chorus of Women's main theme.
Our end-of-year concert in November 2016 ('Singing Regeneration') combined music and spoken reflections on the laws of regeneration, regenerating humanity, and regenerating the Earth.
In the current political climate, working towards political and cultural regeneration is more important than ever and we have been thinking about ways that Chorus can give voice more publicly to the underlying theme of regeneration that has been in the background of much of our previous work.
Please contact us if you are interested.
See further information and news about The Regeneration Project.
Wisdom Conversations
In 2017, we launched a new series of conversations, called 'wisdom conversations' to bring together people with different cultural, disciplinary and generational perspectives. We are seeking a broader, more open and deeper experience than is usually possible in public forums, or when people stay in siloes – whether they be sciences, the arts, social services, business, government, or religious, cultural and other perspectives.
Where can the green songs grow? Sharing perspectives on regeneration for our broken world
17 October 2017
Our first 1-day conversation was held in October 2017 and was cohosted by A Chorus of Women and the Australian Centre for Christianity and Culture, with 22 participants to share ideas about the great urgent ethical questions of our time. We explored the question of how civil society can 'grow' the sort of caring, regenerative wisdom that we know so well in our family lives but which is elusive among the noise and competing interests of politics, economics, business and organisational posturing that disastrously dominate too much day-to-day decision making.
Read our report of the October 2017 conversation.
Where can the green songs grow? Sharing ideas and dreams for our Chorus voice now
18 March 2018
To mark the 15th anniversary of the formation of A Chorus of Women on 18 March 2003, we held a wisdom conversation for women who had been part of the Chorus journey. Continuing the theme of 'Where can the green songs grow?', we explored how our Chorus voice can contribute to the transformational changes we long for.

Canberra World Peace Bell
Early in 2017, we were approached by Michael Rabey of Canberra Rotary Club to participate in the official launch of the Canberra World Peace Bell in Nara Peace Park. This launch represented several years of work by Michael and Canberra Rotary to bring a World Peace Bell to Canberra (at that time the 23rd such bell to be installed in the world and the 2nd in Australia).
Our Meg Rigby wrote a new song for this special occasion on 23 February, 10.30 - 12 noon.
Meg describes the song as a kind of meditation on peace, with a repeating chant-like refrain alternating with soaring cries for peace inspired by wording from the annual Peace Declarations, which have been read by the Mayor of Hiroshima each August since 1947.
Here are the words of the refrain:
Sound the bell for peace
Feel its pulse within
We sing peace with every breath
Different cries can be written/sung for different occasions. Here are the cries that we sang for the launch of the Canberra bell:
Hear the cry from Hiroshima
Let their suffering not be in vain
Let us cut the chains of fear and hate
May our love break the spell of war
Build true peace for our children's sake
Unite the world in a call for peace
Hear the call here in Canberra
We greet this bell as a song of hope
More background about this project is on the Canberra Rotary Peace Bell website. A history of the origins of the bells is on the World Peace Bell Association website, and a history of the Hiroshima Peace Declarations is the City of Hiroshima website.
Here is a YouTube Video of our singing of the Peace Bell Song at the Hiroshima Day Ceremony held at the Canberra Peace Bell on 6 August 2018:
Mission Climate!
In 2016, we raised over $6000 for the Climate Council at our event Mission Climate!, which brought together Chorus and other musical artists with climate scientists and others to weave together music and personal reflections on our relationship with the Earth.
The scientists are now telling us that humanity's mission to prevent disastrous global warming is becoming 'mission critical' and we are planning another, bigger, Mission Climate event for 2019.
We would love to hear ideas from any musical folk around Canberra who would like to be involved and make this an event that truly expresses citizen concerns and frustrations, and which cannot be ignored.
In the meantime, see 'Give us this day' — a moving musical expression of the beauty of our world that we are losing, with lyrics by UK poet Tony Vincent Isaacs and music by Ward Swingle.Also see 'Wish', a new original ballad performed by Canberra's own Tim Hollo and his quartet FourPlay.
OTHER NEWS
Lest We Forget
On Anzac Day ABC presenter and Muslim activist Yassmin Abdel-Magied tweeted 'Lest we forget (Manus, Nauru, Syria, Palestine)'. She was widely attacked and accused of being 'disrespectful'.
Here is our response to these attacks and our own song 'Lest We Forget' which we recently recorded using Yassmin's words.
A Chorus of Women commenting on the 2016 election
Just in time for the 2016 Australian Election — A Chorus of Women calls for the kind of politicians citizens crave!
Funny thing is Glenda Cloughley wrote the song four federal elections ago. The occasion then was a Chorus gig to encourage good women to stand for political office.
Copyright © 2018 A Chorus of Women, ABN 91 720 527 876
All rights reserved