What's new
Jam for Refugees
On 1 June A Chorus of Women will join with The Cyrenes to perform at this year's Jam for Refugees at All Saints, Ainslie. We will be singing at 12.30 for about 20 minutes. Please come and support this good cause. And help us spread the word.
Go to the Facebook event for more information.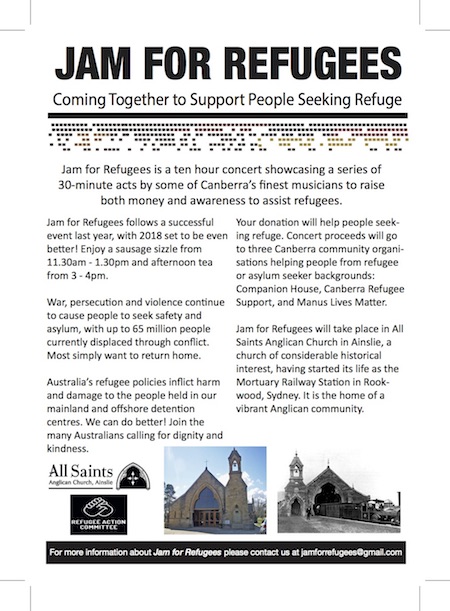 Canberra and Region Heritage Festival
A Chorus of Women has helped launch this year's ACT Heritage Festival on 5 April at Mugga Mugga Cottage. We will be presenting two events as part of the festival. See the Heritage Festival website for more information.
Anzac Eve Peace Vigil 2018

This event has become a Canberra tradition. Starting at the top of Mt Ainslie with community singing and ceremony, we walk down towards the War Memorial in a lantern-lit procession re-imagining the Anzac narrative away from its exclusive focus on past overseas wars, and towards a peaceful and inclusive future.

Watch a video on our facebook page.
Ubuntu Choir from Uganda
Daramalan College Hall - 6 May, 7pm
A Chorus of Women and the Cyrenes women's choir are welcoming the Ubuntu choir from Uganda with our own Ubuntu song!

You can find the meaning of Ubuntu in our 2005 song by Johanna McBride. The Chorus and the Cyrenes are inspired by this ancient African philosophy that impelled the end of apartheid.

Please come and bring your voices! The concert is a fundraiser to fund the completion of a Ugandan high school. See www.kwaya.org for bookings and more information.
The Regeneration Project
'Regeneration' is A Chorus of Women's main theme.
Our end-of-year concert in November 2016 ('Singing Regeneration') combined music and spoken reflections on the laws of regeneration, regenerating humanity, and regenerating the Earth.
In the current political climate, working towards political and cultural regeneration is more important than ever and we have been thinking about ways that Chorus can give voice more publicly to the underlying theme of regeneration that has been in the background of much of our previous work.
Click here for further information. about The Regeneration Project.
Please contact us if you are interested.
Further information
Watch this space for further news and information.
PAST EVENTS
Launch of the Canberra World Peace Bell
On 23 February, from 10.30 - 12 noon we took part in the official launch of the Canberra World Peace Bell in Nara Peace Park. Our Meg Rigby wrote a new song for this special occasion. Click here to find out more background about this project.
Lest We Forget
On Anzac Day ABC presenter and Muslim activist Yassmin Abdel-Magied tweeted 'Lest we forget (Manus, Nauru, Syria, Palestine)'. She was widely attacked and accused of being 'disrespectful'.
Here is our response to these attacks and our own song 'Lest We Forget' which we recently recorded using Yassmin's words.
CHORUS IN RESIDENCE AT NATIONAL CULTURAL HUB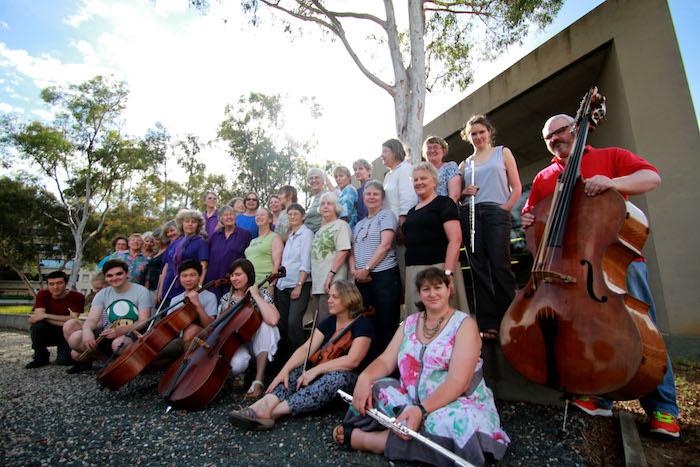 Our singers and musician friends at our new home base, at the Australian Centre for Christianity and Culture.
Since the beginning of November 2015 we have been in residence in the beautiful grounds of the Australian Centre for Christianity and Culture.
Located at the edge of the Parliamentary Triangle on the southern shore of Canberra's Lake Burley Griffin among several other national cultural institutions, the Centre is the Canberra campus of Charles Sturt University.
The residency began with the signing of a Memorandum of Understanding between Chorus women and the Centre's Executive Director, Professor Stephen Pickard. The agreement recognises many years of shared commitments to seeking wisdom for the common good. As ever, the Chorus maintains its independence and non-alignment with any religion or political group.
The Centre has welcomed our offer of 'skilled use of the arts to engage the community in public policy dilemmas by portraying the ethical dimensions of issues and foretelling the human consequences of decisions'.
The Chorus and Centre are both committed to respecting all spiritual traditions. Among our shared active interests are peace making, relations between people and Earth, reconciliation and respect for Indigenous Australians, speaking out about violence against women and children, engendering wise responses to refugees and climate change and regenerating wellbeing in the spirit of our city as our hometown and our national capital. The Centre's website is www.csu.edu.au/faculty/arts/accc
Copyright © 2015 A Chorus of Women, ABN 91 720 527 876
All rights reserved